Shipping Containers For Sale in Victoria, BC
Welcome to the official home of Victoria Shipping Containers Inc.. As an Island grown, family owned business, we proudly boast having the best prices, the biggest inventory, and the friendliest service in Victoria, BC. We delivery from Sidney to Duncan, Ladysmith, Nanaimo, Sooke and all the way up to Tofino and Northern Vancouver Island, our team makes buying shipping containers better by making it fast, easy, safe and affordable. That's our guarantee.
Storage Made Easy™ – The shipping container inventory you here on our website is what you will see at either of our local container yards in the area. Order over the phone, online or in person.
Wicked Fast Delivery – We deliver online orders in little as 24 hours. Need a shipping container today? Call us at 778-403-3990 and we'll have a container on the way as soon as possible.
Be Safe From Container Scams – We're a family-owned business that you can trust. With two locations in Victoria, we invite you to visit us in person in Brentwood Bay or South Shawnigan Lake. We're always happy to show customers our inventory, answer questions and help you find the perfect seacan for your needs.
Get the Best Shipping Container Prices – We might be a local family business that started right here in Langford, but we now have locations all across the country, and we buy direct from the ports and manufacturers in China. Thanks to the amazing local support we have received on the island, we're one of the fastest-growing shipping container and storage companies in Canada, and we pass on the savings we get from our big buying power to you!
Quality Guaranteed – With Victoria Shipping Containers, you know what you are getting. All of our used containers are backed by a 1-year guarantee, and our new containers come with a 5-year Guarantee.
Order Shipping Containers Online
Placing an order online is as easy as 1, 2, 3!
1. Pick your container by adding it to your cart.
2. Add your name, address and postal code and your delivery quote will pop up instantly.
3. Pay online with Visa, Mastercard, e-transfer or request payment on delivery.
As soon as we receive your order, a member of our team will call you to confirm your details and coordinate your delivery.
Got seacan questions? Not sure about buying a shipping container over the interweb? Give us a call at 778-403-3990. We love helping and look forward to answering your questions.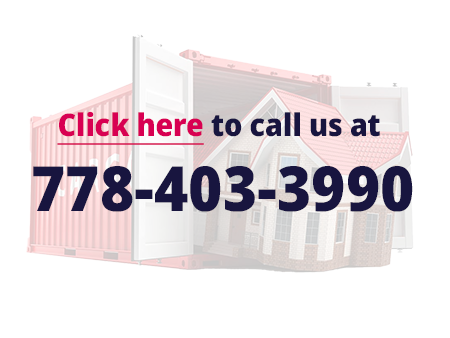 Vancouver Islands' Best Shipping Container Company
From Victoria, BC all the up to the top of the Island, including Duncan, Nanaimo, Tofino and more, we sell great new and used shipping containers and deliver them all over Vancouver Island.
Need help placing an order? Call Victoria Shipping Containers at (778) 403-3990 or send us an email and we'll be happy to get you started.
Shipping Container Pricing Updates
Like many industries, the shipping and logistics industry is unpredictable and suffering from the effects of ultra-inflation. This has resulted in a tremendous increase in shipping container prices. While we understand how this might come as a shock, we can assure you that these increases are not our doing and we are doing everything we can to give you the best prices in BC. 
Buy Better Shipping Containers
As a direct purchaser from the largest shipping companies in the world, we have been given the opportunity to purchase bulk lots of the best quality shipping containers at great prices. Visit us at our South Shawnigan Lake location just outside Victoria, BC to come pick out the perfect used or new shipping container for your needs.
Tilt-Deck Flatbed Delivery: Unless otherwise requested, all of our deliveries are done using a tilt-deck flatbed truck. Flatbed delivery costs $100/hr + 1 hour for loading and offloading. Occasionally our team will quote prices that include delivery. Tilt-deck flatbed delivery is included in these cases where delivery is included in the price.
Crane Truck Delivery: For added flexibility, we also deliver containers by way of crane trucks for an additional fee depending on the complexity of the offload. If your delivery requires a crane truck offload, please let us know before delivery.
For a basic offload off the side of a truck, customers can expect to pay $140/hr + 1hr for loading and offloading. Lifting containers over hedges, fences, houses or other obstacles requires a larger crane. Customers can expect the hourly cost to range anywhere from $180/hr up to $350/hr depending on the size of the container, distance of the reach and space to maneuver at the delivery location.
Shipping Container Grades & Quality Guide
The quality of shipping containers can vary greatly depending on whom you are buying from. While most vendors market their containers as Wind and Water Tight, this is often far from the truth. Shipping container repairs are very expensive, so check out our shipping container quality guide avoid costly mistakes by checking out our shipping container grading guide to see the difference between an As-Is (farm box) container, Wind and Water Tight container (wwt), Cargo Worthy Container (cw), an IICL container or a New / One-time-use shipping container.
Even better, come visit us in person and pick out your container today!
Flexible and Secure Payment Options
Victoria Shipping Containers Inc is proud to offer various payment options, including CREDIT CARD, e-transfer, wire payment, and certified bank draft. Unlike our competitors, we don't charge additional credit card or bank wire fees.
We even finance containers, rent containers and offer lease-to-own programs!
Container Modifications
Spruce up the outside of your container with a cost-effective paint job, or add a door for easier access. We offer many shipping container modification options, including window additions, container framing, insulation, electrical, HVAC and more. As a result of hard work and a commitment to follow through on every job, we've developed great relationships with Victoria's finest contractors and work together to offer all of the best shipping container solutions at one location.
2023 Summer Shipping Container Price Update: 20 Foot Cargo Worthy Shipping Containers / $3300 + tax and delivery
2023 Summer Shipping Container Sale: 20 Foot NEW Shipping Containers / $5300 + tax and delivery
Shipping Container Prices
Get the best prices on shipping containers from us!
We buy directly from the biggest shipping companies in the world and look forward to passing on the savings to you. There are a few variables that affect the price of shipping containers including the value of the Canadian Dollar so check back frequently for shipping container price updates.
Paint Your Container
Customize your shipping container
Looking to save money on a used container but want a clean new look? One of our favorite ways to restore the look of a used shipping container is to have it painted and we can do that for you! It's a great way to save some money, recycle and get a great custom finished product. Your container might be retired from shipping goods across the ocean but it will look and function fantastically for local storage. Check out all the great ways we can customize your shipping container.