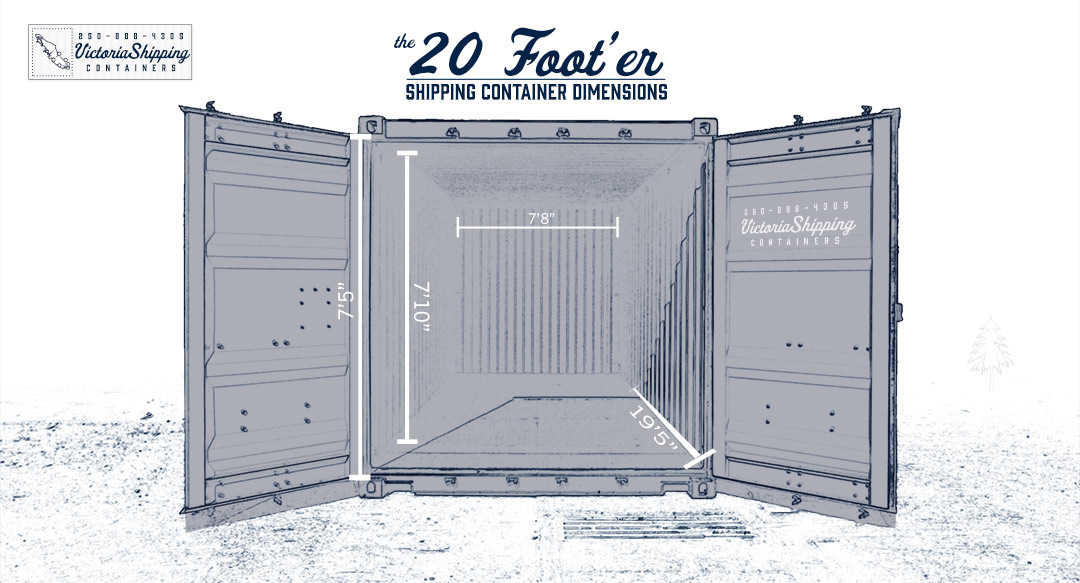 20 Foot Shipping Containers
20 Foot Shipping Containers have lots of great uses. Most of our clients looking to purchase 20′ containers use them for storage but we've seen them be used for building houses, cabins, barns, restaurants, pop-up shops, schools, wood kilns, motorbike & car storage and even swimming pools. The uses of 20 foot shipping containers is truly limited only by imagination.
Here at Victoria Shipping Containers we offer three different grades of 20-foot shipping containers.
New 20′ Shipping Containers
Used Cargo Worthy 20′ Shipping Containers
Used Wind and Water Tight Shipping Containers
Used As-Is Farm Box 20′ Shipping Containers
All of our shipping containers are in good condition with functioning wind & water tight doors, quality roofs and sturdy walls. The main differences are related the aesthetics and age of the containers. There are a variety of reasons that shipping container prices rise and drop like the Canadian Dollar value so check out our shipping container prices page regularly.
Brand New Shipping Containers
Brand-new shipping containers are exactly what they sound like. They are brand new, shiny and never used. Brand-new containers are only found overseas in countries such as China, Korea and Malaysia. In North America, the newest containers are called one-way, single-trip or one-time-use shipping containers. The shipping industry refers to these as new shipping containers. 
One-Time-Use Shipping Containers (NEW)
One-way shipping containers are brand-new containers used once for transporting goods here to Canada. Generally, these containers arrive from China full of electronics or various goods and are then sold once said goods are offloaded. These containers are sold after one use because it is more cost-effective than sending them back to China empty.
Used Cargo Worthy Shipping Containers
Cargo-worthy shipping containers are well-used but still in great condition. They are completely airtight, water-tight, buoyant and ready to be re-certified for shipping by Transport Canada. You can expect these containers to be between 10-16 years old with significant rust, scratches and minor dents but still ready to transport goods internationally. 
Used Wind & Water Tight Shipping Containers
Used Wind & Water-Tight Shipping ContainersA used wind and water-tight shipping container has reached the end of its life as a cargo shipping container. Deemed structurally unsafe, they are still great for storage but wouldn't pass international transport regulations. These containers are 90% air and water tight or higher, meaning the doors close properly and the container remains sealed, but it's no longer buoyant, and we wouldn't recommend storing Granny's couch in them.  We offer custom container painting services if you are looking for that new container look but want to save a few dollars.
Used As-Is Grade Shipping Containers (Farm Box)
The lowest grade but cheapest shipping containers we carry are called As-Is Shipping Containers. We also call these Farm Boxes because they are very popular with local farms that just need a place to store equipment and give animals some shelter from the elements. These containers are beaten, ugly and usually have a minor leak, but they are still structurally sound.